Steak Fajitas Strips Recipe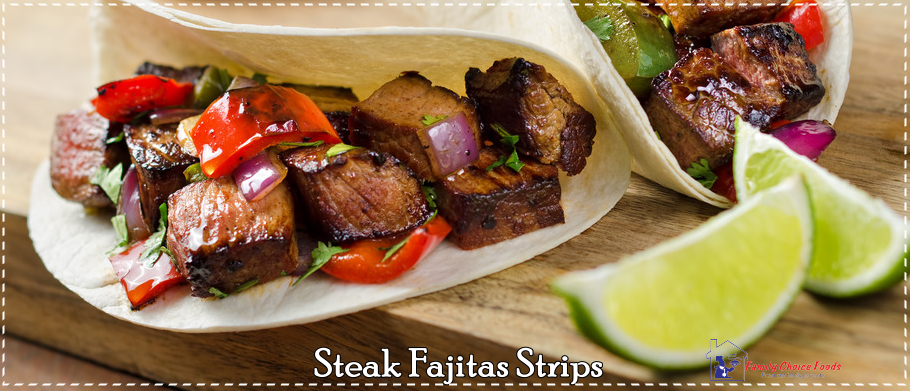 Everybody loves to eat steak. Who doesn't? But, there is more to steak than being grilled. One way of cooking steak is by cooking it with a Tejano twist! Enter the Steak Fajitas Strips Recipe.
Fajita is a Tejano or Texan-Mexican American term. It refers to strips of meat from the beef skirt. Thus, Steak Fajitas mean Steak Strips.
Want to try Steak Fajitas but don't know how to cook? Don't worry. Presented below is a simple recipe that is easy to follow, even beginners can master it.
Ingredients:
Marinade:
½ cup of lime juice
½ tablespoon ground pepper
1 tablespoon fresh cilantro, chopped
==
Main dish:
1 pound lean steak (cut into strips)
2 tablespoons vegetable oil
1 large onion (cut into thin strips)
1 green bell pepper (julienned)
2 lemons (quartered)
6 pieces flour tortillas (12 inch size)
Salt and Pepper to taste
Directions:
Combine the ingredients for the marinade in a shallow bowl.
Place steak strips in the marinade and refrigerate for two to four hours.
After two or four hours, remove steak strips from the marinade and set aside.
Use a large skillet and put it over medium-high heat.
Heat 1 tablespoon of vegetable oil in the skillet.
Add steak strips and fry until cooked to your preferred doneness.
Remove cooked steak strips from the skillet.
Add remaining 1 tablespoon vegetable oil in the skillet.
Add onions and cook over medium-heat until it turns translucent.
Stir in julienned green bell pepper and steak strips.
Squeeze the juice of 1 quartered lemon over the skillet and continue to stir.
Check if green pepper is tender and if it is, remove skillet from the heat.
Season the dish with salt and pepper to improve taste.
Serve the steak fajitas with warmed tortillas and 1 quartered lemon on the side.
You can pair it with red wine. Remember red wine is for red meat! Enjoy!
See! It is as easy as 1-2-3. With ingredients that are kitchen staples, you can serve it anytime you want. It can be prepared for a party of one, a party of two, or simply a party with family and friends.
As stated before, beginners can master this recipe. This dish can be their signature dish before they venture out to try other dishes. For those who already know how to cook, this is a no-fail basic dish that can be served with any type of dishes they have prepared.
Steak Fajitas Strips served as you desire!