Pastrami Panini with Garlic Pesto Spread Recipe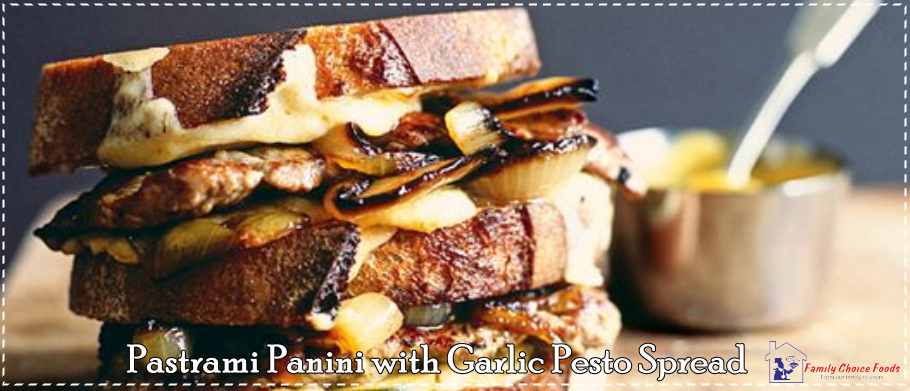 Before the invention of refrigerators, our ancestors were clever enough to find a way to preserve the meat. They even discovered a way to preserve the taste too! One traditional way of preserving meat is through "salting". Adding salt to the meat will kill the bacteria and preserve the meat for a long time.
At present, one way that people preserve their meat is through making pastrami. Pastrami is a way of preserving meat through smoking or steaming. It is a Jewish recipe that became popular in the 19th century. Until now, pastrami is still a favorite by many. You can use it in sandwiches, pizza toppings, or just plain smoked pastrami.
If you want to have some ready-to-eat sandwiches, something which you can eat if you are not in the mood for cooking, pastrami Panini is the perfect solution for you. You can make healthy and mouth watering sandwiches with sliced deli pastrami, and serve them in no time.
Here is how to make your very own Pastrami Panini with Garlic Pesto Spread recipe.
Ingredients:
Garlic Pesto Spread
Fresh Basil leaves (grinded, 20 grams)
Parmesan cheese (grated, 4 teaspoon)
Garlic (minced, 1 clove)
Olive oil (1 tablespoon)
Butter (1 tablespoon)
Iodized salt (1/2 teaspoon)
Pastrami Panini
Rye bread (4 slices)
Mozzarella cheese (4 slices)
Pastrami (230 grams)
Procedure:
Step 1
To prepare the garlic pesto spread, put the olive oil, butter, and salt in the skillet. Wait until the butter melts into the oil.
Step 2
Add the grinded basil leaves, garlic, and parmesan cheese. Stir it for about 2 minutes, and then turn off the heat. Continue stirring it until the spread is mix thoroughly and smoothly. Set it aside afterwards.
Step 3
Set the Panini press on high to preheat it. While waiting for it to heat, spread the garlic pesto spread onto the rye bread slices. You can put some spread on one side or on both sides of the bread- your choice.
Step 4
Add the pastrami and mozzarella cheese on the 2 slices of rye bread with the garlic pesto spread. Top with the remaining 2 slices of rye bread with garlic pesto spread.
Step 5
Grill them on the Panini press and wait until the mozzarella cheese melts and some grill marks appear on the outside of the rye bread.
Step 6
After grilling, cut them into triangles and serve your freshly grilled pastrami Panini with garlic pesto spread.