Ham Steak Recipe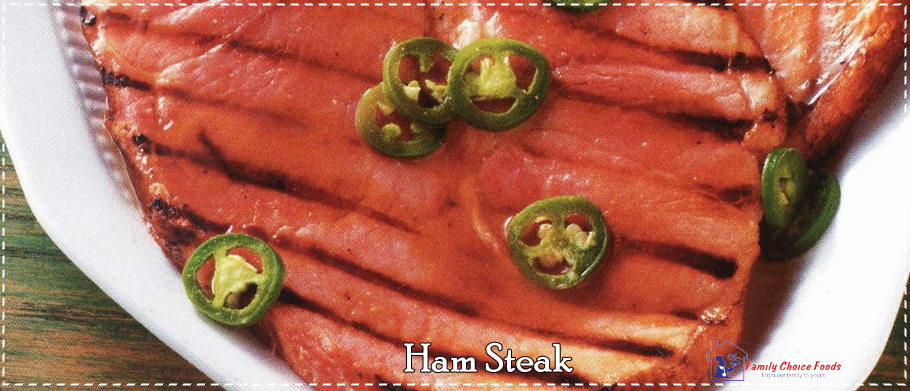 Are you tired of your usual steak recipe? If your family is bored with it, then it's time to innovate. Steaks are one of the most delicious dishes around the world, but sometimes kids don't like steaks. In this recipe, we're going to use for our main ingredient is what kids' love- ham! We all know all that ham works well with sweet or savory flavors and when we add some glazes, it would totally enhance the ham steaks.
Now, can you imagine a steak recipe that your kids will totally love? So, what are you waiting for and try out this new steak recipe and find out how your family will love it! Discover the new, delicious and rich flavor ham steak recipe here.
You will need the ingredients below:
1 lb Ham
1/4 cup brown sugar
1 tsp cinnamon powder
1 tsp lime juice
2-3 pcs pineapple slice, saved the juice
1 large onion, roundly sliced
Salt and pepper to taste
Instructions:
After gathering all the ingredients needed for this recipe, here are the procedures to follow:
First, sliced the ham thinly but make sure that it will still stay firm when cooked, then put it in a wide pan, orderly put the ham one by one in the pan. Sprinkle with salt and pepper and cinnamon. Set aside and let it rest. In addition, simply make some tiny cuts along the ham's edges using a sharp knife, this will prevent the ham from curling as they cook.
Second, mix the brown sugar, pineapple juice and the lime juice in a sauce pan. Turn on low heat and let the sugar dissolved while stirring the mixture occasionally. Let it cool for a while.
Third, once the sauce mixture is already cooled, put it in the pan of ham and turn on with a medium heat. When it boils, put in the onion and let it caramelize.
Fourth, when the onions are already brown, put on the pineapple slice on top of the ham and bring it to boil over a low fire. Also, by using a fork, carefully turn the ham steaks after cooking for about 5 to 7 minutes.
Fifth, remove from the heat and transfer to a serving plate and serve while hot! You can also add some boiled veggies on its side.
Your family will enjoy this recipe and you can also make this recipe for some special occasion. Anyone will surely love it and this recipe is going to be a hit!