Flat Iron Steak With Red Wine Sauce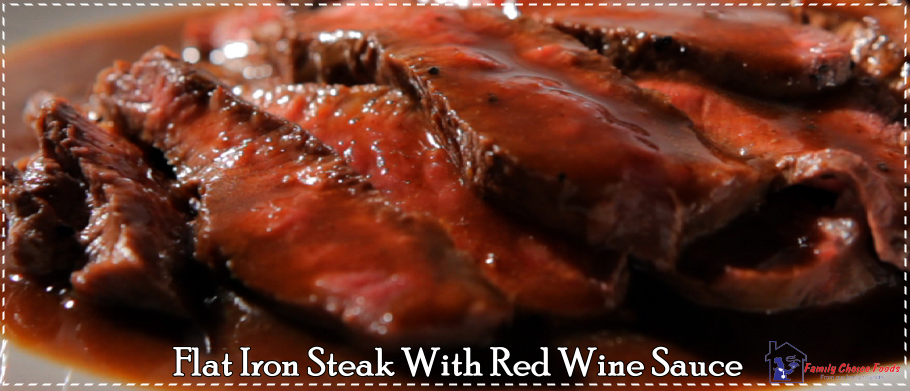 A steak can be made in as easy as one two three. A home made mouth-watering steak you can't resist is not hard to achieve at all. If you're ready to bring smiles to your family's faces, prepare the ingredients below and follow the steps further to get down to your chef mode. Here's a simple recipe on how to make your Flat Iron Steak with red Wine Sauce.
Ingredients
6 tbsps cold unsalted butter
Salt and black pepper
2 (1 lb.) flat iron steaks
3 tbsps extra-virgin olive oil
1 tbsp minced garlic
1 onion, sliced thinly
1 tsp dried oregano
2 1/2 cups dry red wine
1/4 cup tomato paste
PROCEDURES
First, prepare your grill or barbecue (medium to high heat). Next, sprinkle steaks with your salt and pepper then drizzle with the 3 tbsp of olive oil.
Second, grill to your desired doneness (Around 5 minutes for each side–medium-rare).
Third, transfer steaks to the cutting board. Tent them with foil and let them stand in 10 minutes.
Fourth, melt 2 tbsps butter in a big saucepan over medium to high heat.
Fifth, add onions and saute it until it gets tender (around 5 minutes), and then season with salt. Add garlic and oregano; saute till fragrant (around 30 seconds).
Sixth, stir in the tomato paste and then cook for two minutes, constantly stirring .
Seventh, whisk the wine in. Simmer till the sauce gets reduced by half, occasionally stirring (around 10 minutes).
Eight, remove skillets from the heat. Then, strain the sauce to a small bowl, pressing the solids on to extract further liquid.
Ninth, discard the solids in your strainer and bring the sauce back to the saucepan. Also, bring back the slow simmer.
Tenth, cut the rest of the 4 tbsps of butter to small 1/2-inch pieces and whisk the sauce in gradually.
Eleventh, season the sauce with salt and pepper to taste.
Twelfth, thinly slice steaks across its grain. Divide steak slices among 6 serving plates.
Lastly, drizzle the sauce over your steak, and drizzle a bit more of the extra-virgin olive oil. Serve and enjoy!